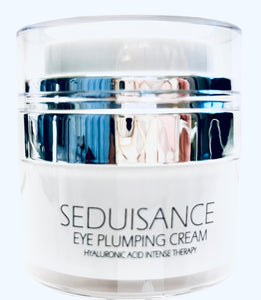 Rejuvenates and nourishes the delicate skin around the eyes. This hydrating noncomedogenic eye cream is rich in Hyaluronic Acid which is designed to retain moisture under the tissue layers to increase hydration and plump the skin reducing fine lines while providing the natural glow of a healthy skin.
NET WT. 0.5 OZ (15ml) 
Ingredients: Purified Water, Vegetable Glycerin, Shea Butter, Fractioned Coconut Oil, Vegan Hyaluronic Acid, Cetearyl Alcohol, Caprylic/Capric Triglyceride, Cetyl Alcohol, Ceteareth-20, Collagen, Retinol, Rosehip Oil, Geranium Essential Oil, Potassium Phosphate, Ceramides, Carbomer, Dimethicone, Behentrimonium Methosulfate, Cholesterol, Phenoxyethanol, Disodium EDTA, Dipotassium Phosphate, Vitamin E, Phytosphingosine, Xanthan Gum, Ethylhexylglycerin.
This product is Animal Cruelty Free, Toxic Free.
Proudly made in USA
⭐️⭐️⭐️⭐️⭐️