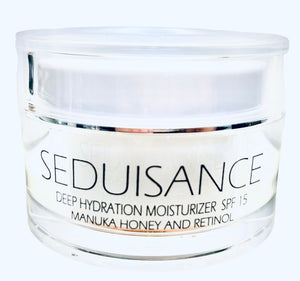 Deep Hydration Moisturizer with Manuka Honey and Retinol, is a rich hydrating non greasy, noncomedogenic daily moisturizer packed with all the benefits of Hyaluronic Acid allowing deeper penetration and retention of moisture in the skin, clinical strength Retinol to reverse the signs of premature aging. Collagen delivers its antioxidants and anti-aging properties that tighten and lift the skin, while Manuka Honey from New Zealand, add anti-bacterial and anti-inflammatory qualities that help prevent breakouts and redness, soothing while nourishing dry skin and promoting healing from inside out. 
Use once or twice daily and in a few days you will notice the difference... regenerates skin cells, shrinks pores, tightens sagging skin, and reduces discoloration. The results are a smooth hydrated and clear complexion, because the perfect skin starts with a healthy skin. SPF 15

Net Wt. 1.7 oz (50 ml) 
Ingredients: Purified Water, Vegetable Glycerin, Shea Butter, Vegan Hyaluronic Acid, Cetearyl Alcohol, Caprylic/Capric Triglyceride, Cetyl Alcohol, Ceteareth-20, Collagen, Retinol, Manuka Honey, Carrot Seed Oil, Ylang Ylang Essential Oil, Potassium Phosphate, Ceramides, Carbomer, Dimethicone, Behentrimonium Methosulfate, Cholesterol, Phenoxyethanol, Disodium EDTA, Dipotassium Phosphate, Vitamin E, Phytosphingosine, Xanthan Gum, Ethylhexylglycerin.
This product is Animal Cruelty Free, Toxic Free.
Proudly made in the USA 

Maria Collins ⭐️⭐️⭐️⭐️⭐️ 03/27/2022
LOVE THIS PRODUCT!! I have sensitive skin that is getting dryer as I get older, this face cream is exactly what my skin needed. Keeps me hydrated all day and feels luxurious putting it on every morning. I also love that it has SPF so I don't have to us multiple products. I'm in my 30s. The product lasts a good while too which I love. I always hesitate to spend money on skincare but trust that this is worth every penny!!
⭐️⭐️⭐️⭐️⭐️
Anupama Mohanram  ⭐️⭐️⭐️⭐️⭐️
I have tried several products from this line, I can't say enough good things! The moisturizing is phenomenal and the scents are so pleasing. I think I'm addicted!
Marisol McManus ⭐️⭐️⭐️⭐️⭐️
Just started using these products a couple of weeks ago and already really see the difference. The best! highly recommend it!


Toni Macri-Reiner ⭐️⭐️⭐️⭐️⭐️
Love the day moisturizer! It feels light, yet very moisturizing. Not oily.
Sherry Parker ⭐️⭐️⭐️⭐️⭐️
Excellent hydration, will be ordering again!
Susan Wells ⭐️⭐️⭐️⭐️⭐️
I'm absolutely loving this cream and how my face feels soft and hydrated all day. I will definitely purchase more.
October 12th, 2018
 Corrina Milito ⭐️⭐️⭐️⭐️⭐️
I. Am. In. Love. After oil cleansing and moisturizing for several years, my almost-42 year old skin needed a little something more. After using Seduisance's moisturizer, night repair cream, and eye cream for a month I AM A BELIEVER!! I'm getting near constant comments on my skin and I couldn't be happier. My skin looks hydrated, plump, and dewy. Thank you for these wonderful products!!!!