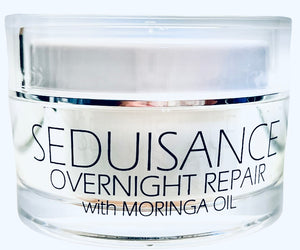 Rich, hydrating and noncomedogenic; this night cream has all the benefits of Moringa Oil, cold pressed and harvested from the Oleifera tree native to the Himalayan mountains, and long used by its antioxidants and anti-aging properties.
Great source of:
Vitamin B1, B2, B3, and B6.
Vitamin C.
Calcium.
Iron.
Magnesium.
Potassium.
Zinc.
Amino acids.
Beta Carotene 
Net Wt. 1 oz (30 ml)
Ingredients: Purified Water, Vegetable Glycerin, Shea Butter, Fractioned Coconut Oil, Vegan Hyaluronic Acid, Cetearyl Alcohol, Caprylic/Capric Triglyceride, Cetyl Alcohol, Ceteareth-20, Collagen, Moringa Oil, Jasmine Essential Oil, Potassium Phosphate, Ceramides, Carbomer, Dimethicone, Behentrimonium Methosulfate, Cholesterol, Phenoxyethanol, Disodium EDTA, Dipotassium Phosphate, Vitamin E, Phytosphingosine, Xanthan Gum, Ethylhexylglycerin.
This product is Animal Cruelty Free, Toxic Free.
Proudly made in USA
⭐️⭐️⭐️⭐️⭐️ Aja Carlson 
"This happens to be the SECOND overnight moisturizer I have ever liked enough to buy more than once. Very light, smells & feels amazing, & my skin looks so good. Love this!"